"I found a video I like for a project and I want to download it or find the original source to accurately source it. How does it go about doing that?"
Download people's YouTube videos onto your computer to make a video with downloaded clips from YouTube. If you ever google it, you may found many free YouTube downloader or free YouTube download site. Get one you preferred. Here I would like to show you how to download videos off YouTube with free YouTube Downloader for Mac.
Free YouTube Downloader for Mac is an absolutely free YouTube Downloader for Mac users. It helps us download YouTube common videos and HTML5 videos on Mac at ease. Please note that the freeware can only download videos from YouTube not work with other video sharing websites.
Follow these steps to download videos off YouTube:

Step 1-First of all, get ready to download process.
Download and install Free YouTube Downloader for Mac. Open Safari. Go to YouTube.com and locate the video you would like to download.
Step 2-Start downloading.
Three different ways start to download YouTube video.
1. Check "Downloads" menu, then click on "Enter a URL". Copy the web link of the video from search bar and paste into the blank space. And click on "OK" to start download the video.

2. Select the whole URL of the video, drag and drop it into the interface downloader.
3. Click on the download button appeared on the top right corner of the video when it is playing.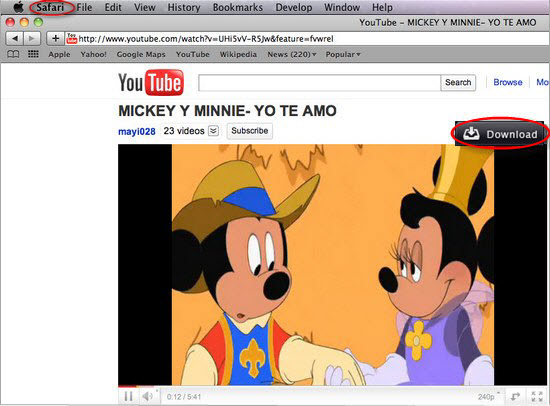 Step 3-Manage downloaded files.
When the downloading process is finished, go to "Library" to check downloaded YouTube files.